Kentucky Lake Bass Fishing
Bates Wins Walmart Bass Fishing League Lbl Division On Kentucky Lake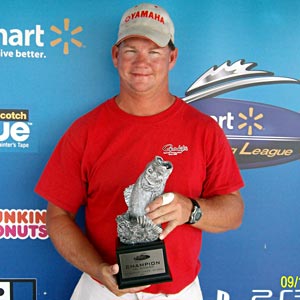 Boater Phillip Bates of Bon Aqua, Tenn., caught 10 bass weighing 30 pounds, 12 ounces in the Sept. 10-11 Walmart BFL LBL Division tournament on Kentucky/Barkley lakes to win $5,126. Bates was fishing shallow on the south end of Kentucky Lake using topwater and Rat-L-Trap baits to catch his limits.
The remaining top 10 anglers:
2nd: Chad Branham, Murray, Ky., 10 bass, 22-15, $2,563
3rd: Billy Schroeder, Paducah, Ky., 10 bass, 22-9, $1,709
4th: Dan Morehead, Paducah, Ky., nine bass, 22-7, $1,196 + $1,000 Evinrude Bonus
5th: Joel Trovillion, Grantsburg, Ill., 10 bass, 21-8, $1,025
6th: James Wilkins, Princeton, Ky., 10 bass, 21-5, $940
7th: Brent Anderson, Kingston Springs, Tenn., 10 bass, 21-4, $854
8th: Darrel Knies, Avon, Ind., eight bass, 20-14, $769
9th: Dianna Clark, Bumpus Mills, Tenn., 10 bass, 20-14, $683
10th: James Wright, Paducah, Ky., eight bass, 19-4, $598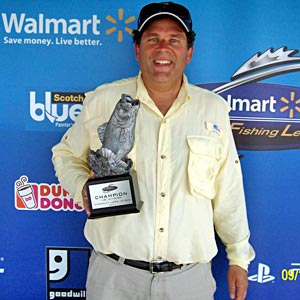 Scott Wasson of Evansville, Ind., caught nine bass weighing 18 pounds, 14 ounces in the Sept. 10-11 event to win $2,563 in the Co-angler Division. Wasson was fishing ledges with a jig.
The remaining top 10 co-anglers:
2nd: Mike Siddens, Rockville, Ind., eight bass, 16-13, $1,281
3rd: Johnathan Grimes, Hodgenville, Ky., six bass, 15-1, $853
4th: Lee Warren, Sulphur Springs, Texas, six bass, 13-15, $598
5th: Dan Edington, Madisonville, Ky., seven bass, 13-3, $513
6th: Tim Huddleston, Paducah, Ky., five bass, 11-7, $470
7th: Joe McClary, Richmond Heights, Mo., five bass, 11-3, $427
8th: Jeremy Griffin, Mattoon, Ill., four bass, 10-11, $384
9th: Brian Futch, Marion, Ill., four bass, 10-6, $342
10th: Alan Woodford, Winslow, Ind., six bass, 10-1, $299
The top 40 boaters and 40 co-anglers based on point standings will qualify for the Nov. 3-5 Regional Championship on Lake Dardanelle in Russellville, Ark. Boaters will compete for a top award of a Ranger 198VX with a 200-horsepower Evinrude or Mercury outboard and a Chevy pick-up, while co-anglers will fish for a new Ranger 198VX.
For regular updates, photos, tournament news and more, follow the BFL on Facebook at Facebook.com/BassFishingLeague. For news surrounding FLW Outdoors on Facebook, follow Facebook.com/FLWFishing and on Twitter at Twitter.com/FLWOutdoors.
ABOUT FLW OUTDOORS
FLW Outdoors is the best in fishing, on and off the water. Anglers worldwide can compete for millions over the course of 191 tournaments in 2011. FLW Outdoors has taken fishing mainstream with the world's richest fantasy sports game, FLW Fantasy Fishing presented by Straight Talk, where competitors can play for free as well as sign up for Player's Advantage to gain an edge. For more information about FLW Outdoors and FLW Fantasy Fishing, visit
FLWOutdoors.com
or
FantasyFishing.com
.
Navigation
[0] Tournament News
[#] Forum